Hey! Remember way back when I was churning out info on Portland's old monopolistic streetcar network? Well, turns out I have maps I made and articles I started that I never finished. Here they are!
Woodstock Line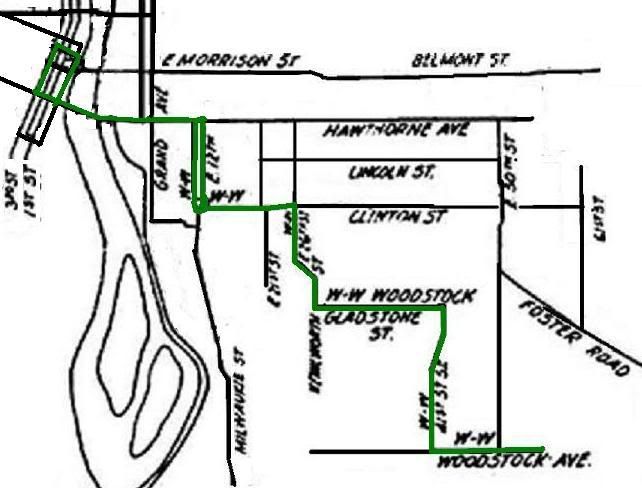 In 1889, w/ electric streetcar lines under development in Portland and Albina, residents to the south & east of East Portland began to gather subscriptions to fund an electric transportation system of thier own. By May they had gathered $45,000 towards this purpose, & began negotiations w/ Sprague Electric to build the line. Sprague, however, wanted the subsidy up front to cover costs, while the investors wanted to pay on completion of the trolley route. The deal fell through, & in July new negotiations opened w/ Thompson-Houston Electric, while the total subscriptions for the line rose to $55,000 (the equilivent of about $1.2 million today). A deal was struck August 4th for 6 & a half miles of track & electrified wire. The City of East Portland granted a franchise Nov. 9th & construction began in December. (all preceding from Labbe 69)
The subscribers were also tract holders along the route. (Thompson, 20)
By April 1890 four Pullman cars were on the way & Thompson-Houston had completed negotiations for the use of the Willamette Bridge Railway Co.'s tracks on East 5th (now SE Grand) & across the Morrison Bridge. Included in the deal was the contruction of a powerhouse & trolley barn at SE 26th & Powell, including an implicit agreement that Willamette Bridge would takeover full operation of the line when it was finally completed (which it did, on July 1st 1890). [Labbe, I think]
Problems w/ the electrical system & use of old horsecar rails delayed operation, delaying full functionality up into March of 1891. [Labbe, again, I think]
Montavilla Line
Didn't even begin accumulating data for this article, though, for reasons unknown to me, I like to call Montavilla "Montanaville" sometimes...
The Astoria Street Railway (1888-1924)
This aborted article is sad because the subject matter was quaint and interesting, and I would have liked to have finished it.
The fourth act in the play of The Astoria Street Railway or, The Connecting Link, a Tale of Scow Bay is now on the stage. The curtain rose on the present comedy last summer when the Astoria Street Railway was organized, and after a brief existence sold the franchise (or rights, whatever they are) to F. P. Hennessy, a pleasant spoken gentleman from across the sea, who with his associates constituted the company that, purely as a matter of benevolence, was going to build a street railway from Uppertown down the roadyway to Squemoqua Street1, and from there the Lord knows where. The evident inability on Mr. Hennessy's part caused the scheme to collapse. All that remains is an uptorn roadway, and unpaid creditors. Among others who took hold in good faith was Pierre Bronsdon, builder of the Portland street railway. He worked one month for free and paid his own board, whereupon he secured the franchise from Hennessy on February 7, 1885.2
Astoria's trolleys thus got off to a shaky start.
[great old Astoria pics, following]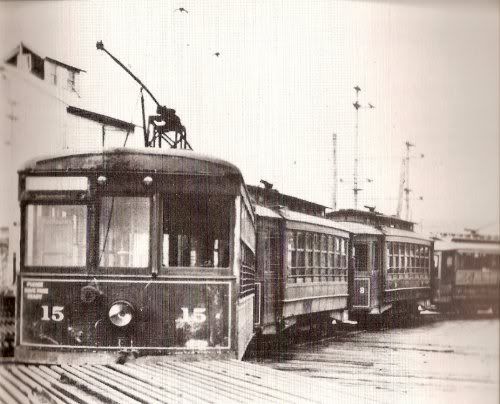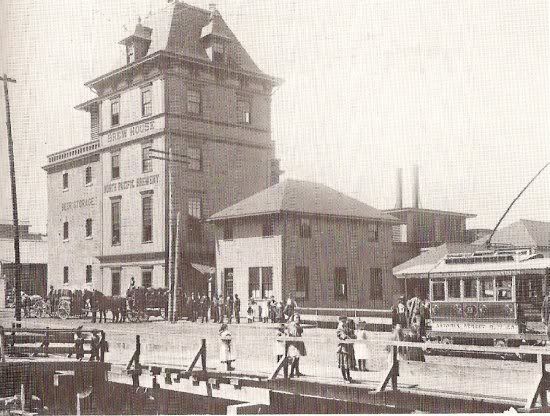 [Astoria used to have this massive waterfront built entirely on piers, so you could cut a hole in the floor of a business and fish, if you were so inclined. 'Course, the side-effect was that it made downtown into a giant tinderbox, and in 1924 almost the whole place went up in smoke. A lot of the trolley track was out over the same such piers, and was never replaced.]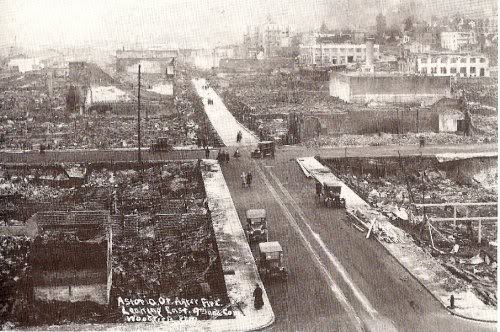 -d.d.
1
Squemoqua being presentday Commercial Street.
2
Dennon, Jim. "Astoria's Streetcars" in
Clatsop County Historical Society Quarterly
, Vol. 9, No. 2 - Spring, 1989. p. 16. Dennnon adds, "the city didn't recognize this transfer [from Hennessy to Bronsdon], so for all intents and purposes the franchise was void."